2013
Meinblau is pleased to present new works by Italian artist Alessandro Lupi (*1975, Genua) in the solo show STANDPUNKT.
Clock-hands confusing the notion of time, a mirror fundamentally questioning the Ego, shadows creating illusions – Alessandro Lupi has made works of analogue light that change depending on the point of view.
In his play with light and shadow, in his experiments with colour, light and space his central interest is manifested: the formation and variability of perception.
Interested in the idea of inversion, the artist offers the visitor the possibility to revise his own point of view and to develop a different perspective by altering his expectations.
MEINBLAU
Christinen str.18-19 Berlin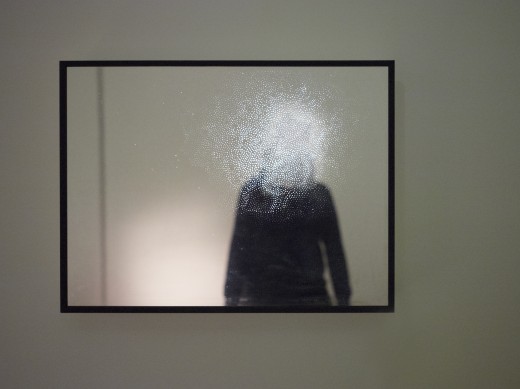 This work playing with the perspective of the viewer is antiEGO mirror. In this work a mirror that at first sight looks normal reflects a density of light that doesn't allow the viewer to see his own face reflected. This work was created to question the idea of identity and the way in which we look at ourselves.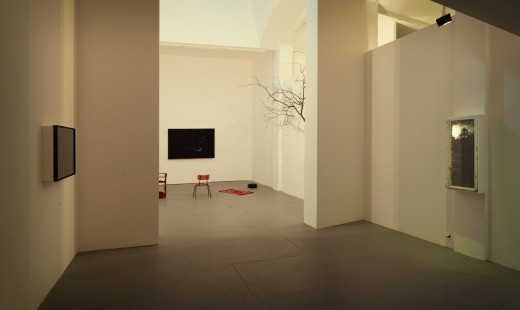 In BERLINER FENSTER an old window is integrated in an interactive installation. The window offers different landscapes depending on the point of view: the ruins of a destroyed city, the shadows of nature and the windows of a building across. Our memory and history is created through the light coming from this old window: war, nature and construction. more detail
TREE is realized with branches of a dead tree. These are installed as if the walls cut them and generate shadows that represent the missing leaves. Fundamental to the piece is the state of suspension caused by the cognitive process before recognizing the illusion. The shadow is the means through which we perceive the whole work and becomes a language between the past, the present and the future, death and life using the tree as a symbol of the natural cycle of life.
UNO transforms itself depending on the visitor's point of view. While standing the viewer perceives dispersed spots of light similar to constellations. Sitting on a school chair, kneeling on a prie-dieu, a carpet and a cushion – each of these positions reveals a different image to the viewer: an atom, a cross, a menorah the name of Allah and Buddha's eyes. This work looks into the possibility and the awareness of a "whole" through the idea of dogma and faith. more detail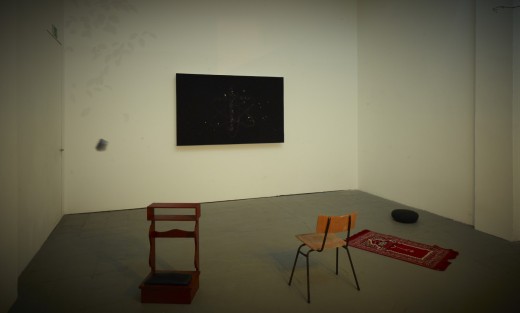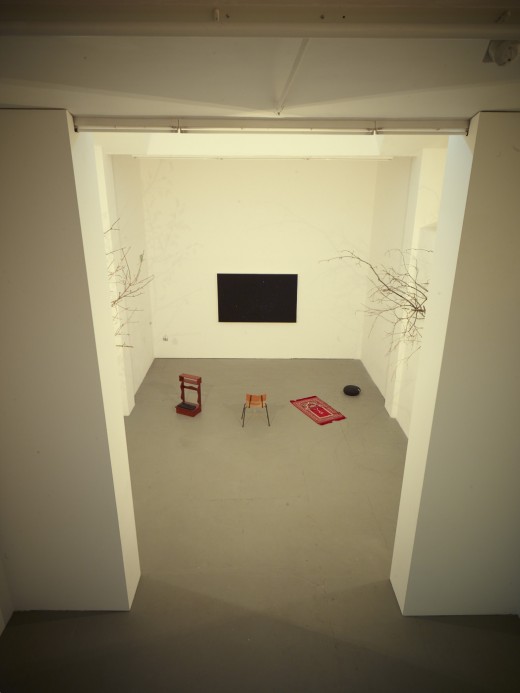 Lupi's work SECONDS is about time and the mutability of its perception. An opaque black panel holds sixty fluorescent clock arms activated in two phases: In the first phase they move asynchronously, visually and auditory evoking a feeling of fragmentation that stimulates the viewer to reflect about the concept of time and the objects by which we structure our existence.
In the second phase the arms stop and start again synchronously making a rhythmic sound. In this whole cycle the arms generate different figures. The ordinary notion of space and time is questioned in favor of a subjective perception. more detail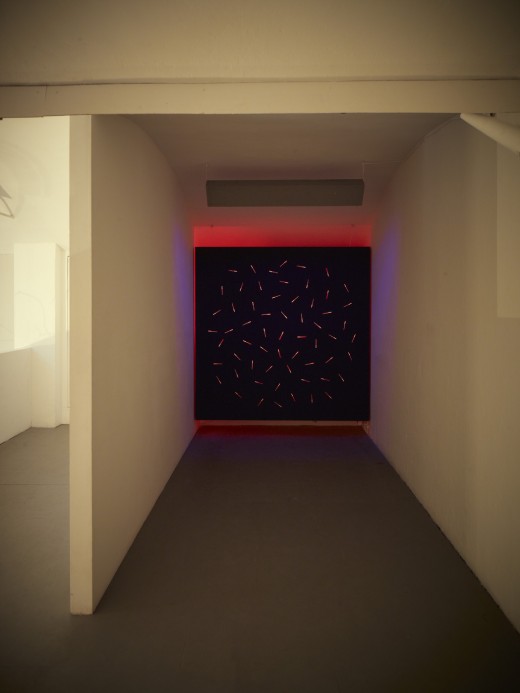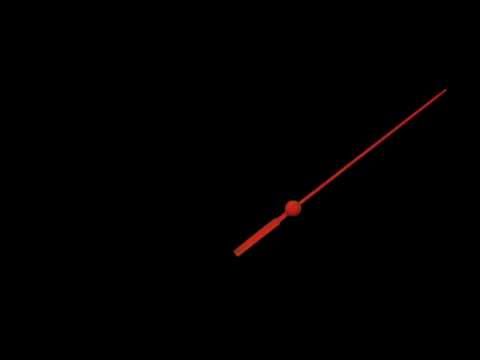 photo © Guido Castagnoli